Gopher Search (Click: large printout)
(1) Type gopher://tc.umn.edu in Location:
(2) When Gopher Menu appears, click Twin Cities Campus Gopher Server. Bookmark.
(3) Click on 6th folder— Libraries
(4) Click last folder— Reference Works
(5) In folder "Periodic Table of the Elements", find chemical data for Silicon (Copy to Word).
(6) In CIA World Fact Book (1991), Click Appendix D: Weights and Measures.
(7) How many zeros are there in a trillion? quadrillion? quintillion?
(8) How big is a gigabyte of memory on a computer? a terabyte? a petabyte?
(9) How many milliliters & teaspoons are there in a tablespoon? (Use Command-F).
(10) In CIA World Fact Book (1991), compare area of the Pacific Ocean with the United States (Open file "Pacific Ocean" in folder P).
(11) Which part of the Pacific is dominated by a clockwise, warm water gyre & which part by a counterclockwise, cool water gyre?
(12) What is the capital of Pitcairn Islands? What is their ethnic origin? What's their economy & their major sources of revenue?
(13) Imagine that you're a jewelry merchant, a fruit wholesaler, a golf club manufacturer. You need to import raw materials for your business. Which countries have sources of pearls? pineapples? titanium?
(Hint: Double Click on "Search CIA World Fact Book 1991". When Dialog box appears, enter: pineapples. Repeat: pearls & titanium). Copy URL & results to your Word page.
(14) Return to first Gopher menu that you bookmarked & Click on 7th folder— News.
(15) Open "Weather Service Satellite Maps"
(16) Scroll down & Open folder "weather machine at University of Illinois"
(17) Open folder "Satellite Images"
(18) Scroll down & Open folder "Pacific-Western (GOES9) Visible (med=600x548)" & Click File 98070321.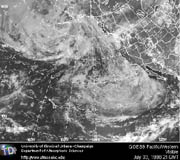 (19) The above Weather Satellite image was taken on July 3, 1998 at 21 GMT (Greenwich Mean Time) or 11 am Pacific Time.
(20) Scale 90% (Page Setup) to Print image.

Born on This Day, July 6—
John Paul Jones (1747-1792) was born on July 6, 1747 in Kirkbean, Scotland. On Sept. 23, 1779, Jones commanded the American ship Bonhomme Richard against the faster British frigate Serapis. As the British sank his ship, Jones kept on firing and captured the Serapis.

What was the famous battle cry that Jones uttered to rally his shipmates to victory? See Charles Andres' painting showing John Paul Jones in action.

Jones died a pauper in Paris in 1792. His body was transferred to the U.S. Naval Academy in Annapolis, MD in 1905. In 1997, the U.S. Navy honored the 250th anniversary of his birth with a web page at FAQ: John Paul Jones.

Which Empress did John Paul Jones serve after the American Revolution?

Carl Gustaf Verner von Heidenstam (1859-1940) was born on July 6, 1859
in Närke, Sweden. As a lyrical poet of the imagination, he led the reaction against the realistic movement in Sweden that emphasized doom and gloom. He was awarded the Nobel Prize in Literature (1916). His first collection of poems (1888) Pilgrimage & Wander-years,pays homage to the Orient with its bright colors and form. His last collection (1915) New Poems,tells of an elevated humanity with wisdom, love & humility.

Download his two Swedish Nobel stamps (1976) at the Nobel Foundation.

Name his poem that has become Sweden's unofficial national anthem?

Complete this Heidenstam quote:
"O Man, you will become wise only when you reach..."

On This Day, July 6—
Axel Hugo Theodor Theorell (1903-1982) was born on July 6, 1903 in Linköping, Sweden. He obtained his M.D. degree in 1930 at the Karolinska Institute with a thesis on the lipids of blood plasma. Since 1935, he did research on the mode of action of oxidation enzymes for which he was awarded the Nobel Prize in Physiology or Medicine (1955).

Name five enzymes that he did research on. (See press release)

What was his connection to the Stockholm Symphony Society?

William Faulkner (1897-1962) was one of the great novelists of the 20th century. He was born on September 25, 1897 in New Albany, Mississippi and died on July 6, 1962. Faulkner created Yoknapatawpha County as a microcosm of the post-Civil War deep South. His novels include The Sound and the Fury(1929), As I Lay Dying(1930), Absalom, Absalom!(1936), and Requiem for a Nun(1951). He was awarded the Nobel Prize in Literature (1949). Read Faulkner's Nobel Acceptance Speech:
"I believe that man will not merely endure: he will prevail."

Why did William Faulkner feel that man is immortal?

What is the poet's duty? the poet's privilege? the poet's voice?

Bookmark William Faulkner on the Web to explore further links on this great American writer.