Proposed Research:

Writing a book Platonic Lambda:
Soul of the Universe, I would like
to explore "Mountain" with the Λ
shape image as the first chapter.
Some topics covered include Art
on Mountains, Music on Mountains,
Poetry on Mountains, Stamps on
Mountains, Mountain Symbolism,
Mountain Writings, Bible on
Mountains, Books on Mountains,
and Mountain Mythology.

Burning question is how the Soul
is related to the triangular shape
Λ of the Mountain.

Timelessness

by Peter Y. Chou (1993)

The hands of the clock
are the wings of an angel,
all you need to do is spread
out your mind, delve into inner
space— here time falls away
cracking like an egg shell,
you're not yolk & white
but sun & sky, your spirit
rising beyond time.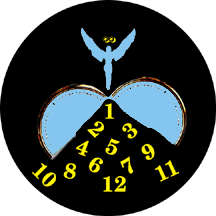 Computer Graphics Shown in Dance Gallery:
"Inspirit" multimedia performances at
Smithwick Theatre, Foothill College,
June 25-26, 1993 & May 14, 1994.