369
In California, at a secret location in Humboldt Redwoods State Park, stands
a 369-foot-high titan that is both the tallest living tree and the tallest organism
on earth. ( NY Times, 4-27-2004).
406
The Montagne de Bueren in Liège, Belgium has 406 steps.
Climbing to the top of the steps will provide a fantastic
panoramic view over the city of Liège.
(Photos).


413
The tallest reliably measured tree ever was a 413 feet Douglas fir in the Lynn Valley
of British Columbia, near Vancouver ( NY Times, 4-27-2004).
442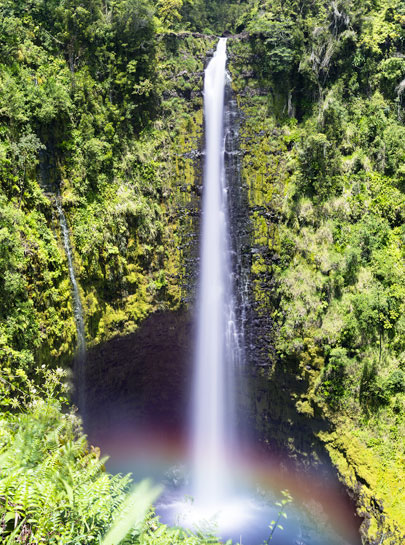 Akaka Falls is a 442-foot waterfall
on Hawai'i Island north of Hilo;
Akaka Falls is located on
Kolekole Stream. A large stone
in the stream about 70 feet upstream
of the falls is called Pohaku o Kaloa
("Hawaii welcomes back tourists",
by David Dickstein, Mercury News, 6-13-2021).
444
"444 Days" is a book review by James Traub
on Mark Bowden's book Guest of the Ayatollah
on the 444 days Americans were held hostage in Tehran.
( NY Times Book Review, May 14, 2006).
452
Swordfish weighing 452 pounds is the fifth largest catch off California coast on September 30, 2003 at Catalina. Swordfish can reach 10 feet in length.
Oldest at 16-years. Dwell at depth of 1800 feet. "Big Fish" (Kurt Snibbe, Mercury News, 7-18-2021, B22).

499
The Analects of Confucius or Lun Yu contains 499 sayings of Confucius (551-479 B.C.)
500
Researchers at I.B.M. and the Georgia Institute of Technology have broken the speed
record for silicon-based chips with a semiconductor. Using a cryogenic test station,
they achieved speed milestone by "freezing" the chip to 451o below zero Fahrenheit,
using liquid helium. At 500 gigahertz the computer semiconductor technology is
250 times faster than chips in today's cellphones, which operate at 2 gigahertz.
At room temperature, the chips operate at 350 gigahertz, far faster than other
chips in commercial use today. ( NY Times, 6-20-2006).
Fiat 500, or Cinquecento, the chubby little car that symbolized
Italy's postwar economic miracle in 1957 has been revamped in July 2007.
At 11 feet 6 inches in length, it is about 4" shorter than the Ka, Ford's
tiny runabout, but 18 inches longer than the original 500.
( NY Times, Aug. 11, 2007).
U.S. $500 Bill was minted by the Treasury featuring a portrait of President William McKinley. The last $500 bill rolled off the presses in 1945, and it was discontinued
in 1969. Even worn specimens commanding upward of a 40% premium on the open market. Uncirculated bill sells for $1956.
507
Sunspot at Region 507 is roughly eight times the size of Earth.
It is expected to produce the most fireworks, and fix its sights
squarely on Earth on Thanksgiving Day, Nov. 27, 2003 (SOHO Image).
555
555 is a resturant located at 555 Congress Street, Portland Oregon. Review
563
Giant Seabass weighing 563 pounds is the fourth largest catch off California coast on August 20, 1968 at Anacapa Island. Giant sea bass can reach 8.2 feet in length, and
live to 75 years old. Dwell at depth of 150 feet. "Big Fish"
(By Kurt Snibbe, Mercury News, 7-18-2021, B22).

575
Beethoven's 575-page score of the complete Ninth Symphony,
sold at Sotheby's in May 2003 for $3.47 million.
575
Thresher Shark weighing 575 pounds is the third largest catch off California coast on May 26, 2007 at Carlsbad.
The scythe-like tail constitutes nearly 50%
of shark's total length. See "Big Fish"
(By Kurt Snibbe, Mercury News, 7-18-2021, B22).

603
World's 15th— Largest Rough Diamond Sold at auction in Antwert, Belgium.
South African Diamond Corp., the overseas-based manufacturing arm of famed
British gem seller Graff Jewelers, purchased the 603-carat stone
for $12.4 million. The uncut diamond is a third bigger than a golf ball.
"Lesotho Promise" is expected to fetch in excess of $20 million once it is cut up.
(NY Times, 10-9-2006; Yahoo News).
639
John Cage's organ recital As Slow as Possible is being performed at St. Burchardi
Church in Halberstadt, an Eastern German town by stretching the performance
to 639 years. (NY Times, 5-5-2004).
650
Selected Poetry of Ogden Nash: 650 Rhymes, Verses, Lyrics, and Poems
by Ogden Nash (1902-1971) is introduced by Archibald MacLeish.
666
"What's in a Date? On 6/6/6, the Possibilities Are Endless"
is an article by Emily Vasques on 666.
(NY Times, 6-6-2006).
688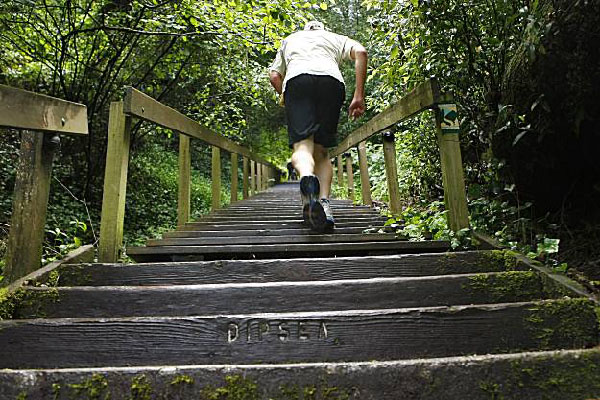 Mill Valley Dipsea Trail Staircase
Trail spans about 7-1/2 miles from Mill Valley to Stinson
Beach, crossing south flank of Mount Tamalpais, up and
down from Old Mill Park through Muir Woods and the
Mount Tamalpais State Park and Steep Ravine en route to
the Pacific coast. Race starts at Mill Valley Depot, where
contestants run a short distance down the street to Old
Mill Park. They head uphill & reach first of 3 sets of steps,
688 in all. Steps are legendary among Dipsea runners.

692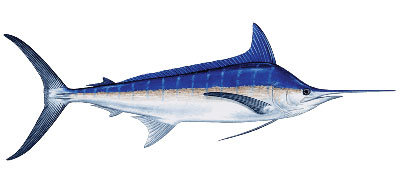 Blue Marlin weighing 692 pounds is the second largest catch off California coast on August 18, 1931 at Balboa.
Largest was a 1098-pound Shortfin Mako Shark
on 1-24-2010 at Anacapa Island. "Big Fish"
(By Kurt Snibbe, Mercury News, 7-18-2021, B22).

715
Barry Bonds hits his 715 home runs lifetime to pass Babe Ruth's 714 career homers.
Bond is now second in career home runs after Hank Aaron's 755 homers lifetime.
Bond's 445-foot 715th homer ball sailed over center-field fence at San Francisco's
AT&T Park against Colorado Rockies right-hander Byung Hyun Kim in the 4th inning with runner on first. (NY Times, 5-29-2006).
732
The Avalokitesvara Bodhisattva will save one from the "7 difficulties" (shichinan)
and the "3 poisons" (sandoku), & it will grant "two desires" (nikyu). The numbers
7, 3, 2 have been interpreted as representing, respectively, "external" obstacles,
"internal" sufferings, and the "ideal" of a happy life; thus, they are symbolic of
the Bodhisattva's omnidirectional compassion. The 7 difficulties are conflagration, drowning, attack by raksasa-ghosts, threat of murder by knives, attack by malignant ghosts, imprisonment in chains, attack by malicious bandits. The 3 poisons refer
to lust, anger, and folly. The 2 desires are to have a son possessing happiness,
excellence, and wisdom, and a daughter possessing beauty and affection.
— Nam-lin Hur, Prayer and Play in Late Tokugawa Japan,
Harvard University Press, 2000, pp. 210, 262
740
Michael Gross proclaimed 740 Park Avenue, New York City
as "the world's richest apartment building" in his book 740 Park.
Billionaires David Koch and Stephen Schwarzman live there.
750
On April 26, 2006, Seagate Technology releases a 750 GB hard drive,
the first 3.5" consumer hard drive to utilize perpendicular recording.
862
It will take about eight months to finish No. K0862,
an 8-foot 11-3/8-inch concert grand Steinway piano.
867
Devils Tower (aka Bear Lodge Butte) stands 867 feet from
summit to base. It is a butte, possibly laccolithic, composed of
igneous rock in Bear Lodge Ranger District of Black Hills, near
Hulett & Sundance in Crook County, northeastern Wyoming,
above the Belle Fourche River. Devils Tower was the first United
States national monument, established on September 24, 1906, by
President Theodore Roosevelt. The 1977 movie "Close Encounters
of the Third Kind" used the formation as a plot element and as
the location of its climactic scenes. Its release was the cause of
a large increase in visitors and climbers to the monument.
U.S. 1084 3¢ postage stamp was issued 9-24-1956 to honor
the 50th anniversary of being named as a national monument.
911
| | |
| --- | --- |
| Bruce Tinsley's Mallard Fillmore Comics (9-11-2021) | Attacks on Twin Towers |
9/11 Attacks on WTC
9/11 is the short term for the September 11 terrorist downing
of New York's World Trade Center on Tuesday, September 11, 2001.
Four commercial airliners traveling from northeastern U.S. to California were hijacked mid-flight by 19 al-Qaeda terrorists. American Airlines Flight 11 was flown into North Tower of the WTC complex in Lower Manhattan at 8:46 am. Seventeen minutes later at 9:03 am, World Trade Center's South Tower was hit by United Airlines Flight 175. Both 110-story towers collapsed within an hour and 42 minutes. A third flight, American Airlines Flight 77, flown from Dulles International Airport, was hijacked over Ohio. At 9:37 am, it crashed into west side of the Pentagon. The fourth & final flight, United Airlines Flight 93, was flown in direction of Washington, D.C. The plane's passengers attempted to regain control of the aircraft away from the hijackers and ultimately diverted the flight from its intended target (White House or Capitol Building); it crashed into a field near Shanksville, Pennsylvania
at 10:03 am. The attacks resulted in 2,977 fatalities, over 25,000 injuries.
On Language: 9/11; "U.S. Attacked" (NY Times, 9-12-2001);
"After the Fall" (NY Times, 9-23-2001);
"A Nation Challenged: One Year Later" (NY Times, 9-11-2002);
A Sept. 11 Reading List (NY Times, Sep. 8, 2002)
New day of infamy (Boston Globe, Tuesday, 9/11/2001)