English Channel, July 29, 1588—
British Defeats the Spanish Armada
at the Battle of Gravelines




The Battle of Gravelines was fought on Monday July 29, 1588 (Old Style, New Style August 8) during the English-Spanish Naval War. The Spanish Armada with 130 ships, 27,365 men, and 2431 pieces of artillery had entered the English Channel on Saturday, July 20,1588. The Spaniard's fleet sailed in half-moon crescent formation, but saw no signs of their enemy. But the next day near Plymouth, 60 English ships appeared. Instead of close-in combat as the Spanish desired, the British ships raced by at the Armada's rear. Each ship firing, as it passed, a terrific broadside. The Spaniards could not reply since their weak guns could not reach the English as they sailed away. On Saturday, July 27, it was full moon, the tides were running at their fastest, three knots off Calais. The wind had freshened and that day the Spaniards dropped anchor at Calais. Spanish Commander Medina Sidonia sent a message to the Duke of Parma for help, but it never came. Drake, taking advantage of a favorable wind, sent fire-ships among the Spanish fleet. Only a few ships were actually set on fire, but the rest cut their cables and made for the open sea. The Spaniards were driven from Calais.

On July 29, the wind again favored the English, for it blew strongly towards the Flemish coast, from which the Spaniards struggled to get away. As they did so, broadside after broadside from the English guns battered their ships and cut down their soldiers. It was a terrible slaughter, and the Spaniards, as at Plymouth, could make no effective reply from their own feeble guns. Only a lucky change in the direction of the wind saved the Spaniards from being driven upon the sandbanks of Flanders. Though they lost only two or three ships at Gravelines, the whole fleet was badly damaged. For Medina Sidonia, recognizing defeat, tried to sail round Great Britain and make for Ireland— a friendly Catholic country, as he thought. But his ships battered by the English guns at Gravelines, were in no condition to make so long a voyage. All leaked badly, a great storm arose, and there were no friendly harbors in England or Scotland. The majority of the ships became wrecks. Many of them were driven on to the inhospitable shores of Scotland and Ireland. Of the 130 ships which had made up the Armada, only fifty reached home. The defeat of the Spanish Armada marked a turning point in history. The era of Spanish world rule gave way to the rise of the British Empire in trade and colonization.
Sources: Peter Padfield, Armada (1988); Colin Martin & Geoffrey Parker, Spanish Armada (1988); Peter Kemp, Campaign of the Spanish Armada (1988); James Mildren, The Incredible Armada (1988); N A M Rodger, Armada in the Public Records (1988)
Spanish Armada (National Maritime Museum); Armada Chronology; Spanish Armada (by Ray Bethke); Spanish Armada (Catholic Encyclopedia); Queen Elizabeth I: "Against the Spanish Armada"
July 29, 1890, Auvers, France—
Vincent Van Gogh Dies at 47
Artist Vincent Van Gogh (1853-1890) dies of a self-inflicted gunshot wound. Van Gogh was born on March 30, 1853 in Groot-Zundert, Holland. His birth sign is Aries (March 21 to April 20). Kirk Varnedoe (Director of Museum of Modern Art) notes that the cypress tree is known as the tree of death and quotes Van Gogh: "looking at the stars always makes me dream... Why, I ask myself, shouldn't the shining dots of the sky be as accessible as the black dots on the map of France? Just as we take the train to get to Tarascon or Rouen, we take death to reach a star."


It's interesting that the tip of Van Gogh's cypress tree in his Starry Night painted a year before his death, touches Aries, the constellation of his birth. Perhaps Van Gogh is portraying Plato's vision in the Timaeus that our soul returns to the star from whence we came.
Van Gogh Gallery; Van Gogh Museum; Biography; Complete Letters; Van Gogh on the Web; An Instructor in How to See (New York Times, 5-12-2002)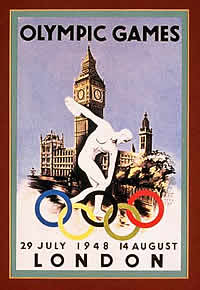 July 29, 1948— King George VI Opens Olympic Games in London
After the 1936 Olympics in Berlin, World War II cancelled the 1940 and 1944 Olympic Games. Great Britain was selected to host the 1948 Olympics at Wembley Stadium. London set new records with 59 countries and 4,099 athletes competing including 385 women. Fanny Blankers-Koen of the Netherlands duplicated Jesse Owens' track & field grand slam of 1936 by winning the 100-meter and 200-meter runs, the 80-meter hurdles, and anchoring the women's 4x100-meter relay. Veikko Huhtanen and Paavo Aaltonen of Finland won 5 and 4 medals apiece in gymnastics. Jimmy McLane & Ann Curtis of USA won 3 medals each in swimming. 17-year old Bob Mathias of USA, just two months after graduating from Tulare High School, California won the gold medal in the decathlon. The United States won a total of 84 medals (38 Gold, 27 Silver, 19 Bronze) with Sweden coming in second with 44 medals (16-11-17). Italy and France were tied for third with 29 medals each. Top Medal Winners: Countries & Individuals
July 29, 1958— President Eisenhower
Signs NASA & Space Act of 1958
On October 4, 1957, the Soviet Union launched Sputnik, the world's first artificial satellite. This event marked the start of the space age and the U.S.-Soviet space race. On July 29, 1958, President Eisenhower signed the National Aeronautics and Space Act creating the National Aeronautics and Space Administration (NASA). It succeeded the National Advisory Committee for Aeronautics (NACA), which was around since 1916, as the U.S. government agency most responsible for advancing aviation technology. Eisenhower requested $125 million to initiate NASA's program. NASA's original goals were to "gain scientific data using automated probes and to send into space craft that will carry men on voyages of exploration." Several space missions occurred on NASA's birthdate: Mariner 6 transmits distant photos of Mars 50 hours before closest approach (7-29-69). Pioneer 11 transmits images of Saturn and its rings (7-29-78). 19th Space Shuttle Mission (51-F)-Spacelab 2 was launched (7-29-85). NASA History; Timeline; Chronology 1958; Manned Space Missions
July 29, 1981, London— Prince Charles Weds Lady Diana
In a fairytale atmosphere filled with pageantry, 32-year old Prince Charles married 20-year old Lady Diana Spencer. Over a million people cheered the wedding procession from Buckingham Palace to St. Paul Cathedral. The wedding ceremony was attended by 2500 guests and witnessed by 700 million television viewers. The Most Rev. Robert Runcie, the Archbishop of Canterbury, concluded his sermon with these words: "May the burdens we lay on them be matched by the love with which we support them in the years to come. However long they live, may they always know that when they pledged themselves to each other before the altar of God they were surrounded and supported not by mere spectators but by the sincere affection and active prayer of millions of friends." More stories: NY Times; Washington Post; CNN; Wedding Photos; Princess Diana Links;

July 29, 1983, Mexico—
Film Director Luis Bunuel Dies at 83
Luis Buñuel was born in Calanda, Spain on February 22, 1900. His first two films were made in collaboration with the painter Salvador Dali, and both caused an uproar on release. Un Chien Andalou (1928), and L'Age D'Or (1930), both displayed dreamlike sensationalist images, that were designed to shock the audience. Buñuel has long been recognized in European critical circles as a great and prolific filmmaker on a par with Eisenstein, Chaplin, Bergman, and Fellini. He directed 32 feature films over a 50-year career, including such memorable films as Viridana (1961), Exterminating Angel (1962), Simon of the Desert (1965), Belle de Jour (1967), and Discreet Charm of the Bourgeoisie (1972). Inspiring quote from Buñuel: "Fortunately, somewhere between chance and mystery lies imagination, the only thing that protects our freedom, despite the fact that people keep trying to reduce it or kill it off altogether." Buñuel quotes & films; Summary of Buñuel films; Biography; Bibliography at UC Berkeley;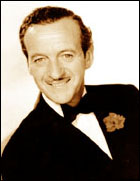 July 29, 1983, Château-d'Oex, Switzerland—
David Niven Dies at 73 of Lou Gehrig's Disease
David Niven was born on March 1, 1910 at Belgrave Mansions in London. Some of his memorable films include Around the World in 80 Days (1956), Separate Tables (1958) which he won an Oscar, Guns of Navaronne (1961), and Casino Royale (1967). He also starred in a series of funny films such as The Pink Panther (1963) and Bedtime Story (1964). His autobiography The Moon's a Balloon appeared in 1972 and his reminiscences of Hollywood Bring on the Empty Horses was published in 1975. Biography; Filmography; Website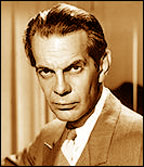 July 29, 1983, Beverley Hills, California—
Actor Raymond Massey Dies at 86
Best remembered for his portrayal of Abraham Lincoln both on stage and in film, Massey had a long and celebrated career in Canada, England and the United States. He began his professional career in London in 1922 and made his Broadway debut in 1931. He served in WW II and kept the troops entertained after he was injured in 1942. He played Sherlock Holmes in his first film The Speckled Band (1931). Other notable films include Scarlett Pimpernel (1934), Prisoner of Zenda (1937), Abe Lincoln in Illinois (1940), Arsenic and Old Lace (1944), and East of Eden (1955). He achieved celebrity in the TV series I Spy (1955) and Doctor Kildare (1961-1966). His wrote two autobiographies— When I Was Young (1976) and A Hundred Lives (1979). Biography; Filmography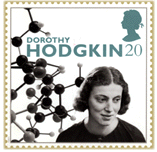 July 29, 1994, Shipston-on-Stour, England—
Dorothy Hodgkin Dies at Age 84
The sole 1964 Nobel Prize in Chemistry was awarded to Dorothy Hodgkin, a pioneer in protein crystallography, "for her determinations by x-ray techniques of the structures of important biological substances." Dorothy Crowfoot was born in Cairo, Egypt on May 12, 1910 of British parents. She received a chemistry degree in from Somerville College in Oxford (1932), and Ph.D. at Cambridge University (1937) working with J. D. Bernal in structural biochemistry using X-ray crystallography. She married Thomas Hodgkin, a historian of Africa in 1937. One of her chemistry students was the future Prime Minister Margaret Thatcher. Hodgkin's research achievements include solving the structures of penicillin (1944), Vitamin B12 (1956), and insulin (1969), a project she had worked on for 34 years. When I met Dorothy Hodgkin at her lecture at Harvard (1977), I thanked her for sending me the atomic coordinates of insulin for my research on protein conformational prediction (Chou-Fasman method). I was even more appreciative of her kindness and generosity when she told me that many labs requested her refined X-ray data of insulin, but she had sent it to me first. Hodgkin was also a champion of world peace and disarmament, and was president of Pugwash Conference on Science & World Affairs (1976-1988). At a memorial service at Oxford (March 4, 1995) Max Perutz said of Dorothy: "She radiated love: for chemistry, her family, her friends, her students, her crystals and her college to which she generously gave part of her Nobel Prize for the support of students and for the College staff... Dorothy will be remembered as a great chemist, a saintly, tolerant and gentle lover of people and a devoted protagonist of peace." Obituary; Memorial by Max Perutz; Hodgkin by Max Perutz; Hodgkin by M. Vijayan; Protein Crystallography Founder; Biography; Nobel 1964; Nobel Lecture; Chemical Achievers; Illustrated Bio; Hodgkin's Oxford Lab; Book
July 29: Born on this day—
1796 Walter Hunt, invented 1st sewing machine (1834) and 1st safety pin (1849)
1805 Alexis de Tocqueville, Paris, France, statesman & writer (Democracy in America)
1861 Alica Hathaway Lee Roosevelt, First wife of Theodore Roosevelt
1862 Eduard Brückner, German geographer & climatologist, 35-year weather cycle
1869 Booth Tarkington, novelist & dramatist
(Two Pulitzer Prizes: Magnificent Ambersons & Alice Adams)
1871 Rasputin (Gregory Efimovich), the mad Russian monk
1878 Don Marquis, newspaperman, poet, and playwright
1883 Benito Mussolini (Il Duce), Fascist Italian dictator (1922-43)
1887 Sigmund Romberg, Hungarian-born U.S. composer & conductor
(Blossom Time, Student Prince)
1892 William Powell, actor (Thin Man, My Man Godfrey)
1898 Anthony John Arkell, British historian & Egyptologist, History of the Sudan
1898 Isidor Isaac Rabi, Poland, U.S. physicist (explored atom, Nobel 1944)
1900 Eyvind Johnson, Swedish novelist ("Return to Ithaca" Nobel 1974)
1900 Owen Lattimore, writer, lecturer, sinologist, victim of McCarthyism
1902 Tsien Chung Chou, Professor of European History, Diplomat to United Nations
1904 Jehangir Ratanji Dadabhoy Tata, Paris, France, Indian industrialist
1905 Clara Bow, silent screen actress (It, Saturday Night Kid)
1905 Dag Hammarskjöd, Second UN Secretary-General (1953-61) (Nobel 1961)
1905 Thelma Todd, actress (Dangerous Female, Devil's Brother)
1907 Melvin Belli, lawyer, SF's "King of Torts"
(represented Mae West, Errol Flynn, Muhammad Ali, Jack Ruby)
1910 Heinz Fraenkel-Conrat, Breslau, Germany, German-American biochemist,
showed self-assembly of tobacco mosaic virus
1914 Marcel Bich, Turin, Italy, inventor of ballpoint pens, Bic Lighter & Shavers
1918 Edwin O'Connor, novelist, Providence, RI (The Last Hurrah), Pulitzer 1962
1924 Lloyd Bochner, Toronto, actor (Cecil-Dynasty, Lonely Lady, Naked Gun 2 1/2)
1925 Ted Lindsay, Hockey Hall of Famer (Detroit Red Wings: 4 Stanley Cup titles)
1926 Don Carter, bowling champion (U.S. Open winner: 1953, 1954, 1957, 1958)
1926 Russel Firestone, polo great (Circle F-1959 champs)
1930 Paul Taylor, dancer & choreographer (Paul Taylor Dance Company)
1932 Nancy Kassebaum, Republican Senator, Kansas
1933 Randy Sparks, folk singer & songwriter ( New Christy Minstrels)
1936 Elizabeth Dole, U.S. Secretary of Transportation (1983-87)
1938 Peter Jennings, Toronto Canada, news anchor (ABC Evening News)
1941 David Warner, Manchester NH, actor (Holocaust, Tom Jones, Morgan)
1943 Roz Kelly, Mt Vernon NY, actress (Owl & Pussycat, Happy Days)
1953 Ken Burns, Emmy Award documentary maker (Civil War, Baseball)
1959 Nelli Kim, USSR, gymnist (two Olympic Gold medals, 1976)

July 29: Events on this day—
1588 British ships defeats the Spanish Armada in the Battle of Gravelines
1773 First schoolhouse west of Allegheny Mountains completed, Schoenbrunn, OH
1786 First newspaper published west of Alleghenies, Pittsburgh Gazette
1835 First sugar plantation in Hawaii begins
1844 New York Yacht Club forms
1856 Robert Schumann (1810-1856), composer dies in Bonn, Germany at age 46
1858 First commercial treaty (Harris Treaty) between United State & Japan signed
1858 U.S. citizens allowed to live anywhere in Japan
1868 John Elliotson, British physician, journal on hypnotism (1846), dies at 76
1870 First asphalt pavement is laid in Newark, New Jersey
1874 Major Walter Copton Wingfield patents a portable tennis court
1890 Vincent van Gogh dies at 47 of a self-inflicted gunshot wound in Auvers, France
1898 John Alexander Newlands, British chemist, law of octaves, dies in London at 60
1899 First motorcycle race, Manhattan Beach, New York
1908 St Louis Browns Rube Waddell strikes out 16 Philadelphia Athletics
1911 Boston Red Sox Joe Wood no-hits St. Louis Browns, 5-0
1914 First transcontinental phone link made between New York & San Francisco
1915 US marines land in Haiti, stay until 1924
1920 First transcontinental airmail flight from New York to San Francisco
1924 Paul Runyan wins the PGA golf championship
1927 First iron lung (electric respirator) installed at Bellevue Hospital, New York
1928 Walt Disney's "Steamboat Willie" is released
1928 Cleveland Indians score 17 in first two innings to beat Yankees 24-6
(Indians also set a record with 24 singles in 1 game)
1930 115o F (46o C), Holly Springs, Mississippi (state record)
1936 RCA shows the First real TV program (dancing, film on locomotives)
1938 Olympic National Park established
1948 King George VI opens 14th modern Olympic games in London
1952 First nonstop transpacific flight by a jet
1955 Smokey Burgess hits 3 homers to help Pirates beat Reds 16-5
1956 Cathy Cornelius wins the U.S. Women's Golf Open in a playoff
1956 Jacques Cousteau's Calypso anchors in 7,500 meters of water (record)
1957 International Atomic Energy Agency established by United Nations
1957 Jack Paar's Tonight Show premiers on ABC television
1957 Patti Page's "Old Cape Cod" tops music charts
1958 President Eisenhower signs NASA & Space Act of 1958
1960 Clyde K. M. Kluckhohn, American cultural anthropolist, dies at age 55
1961 Philadelphia Phillies lose First of 23 straight games
1961 Wallis & Futuna Islands become a French overseas territory
1965 Beatles movie "Help" premiers, Queen Elizabeth attends
1965 Rolling Stones' "I Can't Get No Satisfaction" tops music charts
1965 Major league record 26 strikeouts, Phillies (16), Pirates (10)
1967 Moderate 6.5 earthquake hits Caracas Venezuela causing severe damage
1968 Cincinnati Reds George Culver no hits Phillies, 6-1
1968 Mount Arenal, Costa Rica kills 80 in Pelee-type eruption
1968 Pope Paul VI reaffirms stand against artificial birth control
1969 Mariner 6 transmits distant photos of Mars 50 hours before closest approach
1973 Greek plebiscite chooses republic over monarchy
1974 Second impeachment vote against Nixon by the House Judiciary Committee
1974 St. Louis Cardinals Lou Brock steals his 700th base
1974 Cass Elliot, singer of Mamas & Papas, chokes to death at 30 in London
1975 Ford became First US President to visit Nazi concentration camp Auschwitz
1978 600,000 attend "Summer Jam" rock festival, Watkins Glen, NY
1978 Penny Dean swims English Channel in record 7h 40m
1978 Pioneer 11 transmits images of Saturn and its rings
1981 Prince Charles of England weds Lady Diana Spencer
1982 Vladimir Zworykin, Russian-American inventor of television dies
1983 Luis Buñuel, film director, dies at age 83
1983 David Niven, actor, dies in Switzerland at age 73
1983 Raymond Massey, actor, dies in Beverly Hills, California at 86
1983 "Friday Night Videos" premiers on NBC TV
1983 Steve Garvey ends his NL record 1,207 consecutive game streak
1984 Summer Olympics opens in Los Angeles
1985 19th Space Shuttle Mission (51-F)-Space Lab 2-launched
1987 Ben & Jerry's & Jerry Garcia agree on a new flavor Cherry Garcia
1988 FDIC bails out First Republic Bank, Dallas, with $4 billion
1988 Gorbachev pushes plan electing president & parliament in March 1989
1988 South African government bans anti-apartheid film "Cry Freedom"
1989 Javier Sotomayor of Cuba sets high jump record (8'0") in San Juan
1989 Philadelphia Phillies retire Steve Carltons uniform #32
1989 Vince Coleman, record streak stopped at 50 straight stolen bases
1990 Boston Red Sox set major league record with 12 doubles in one game
1991 First Sunday Night game at Shea Stadium (Mets beat Cubs 6-0)
1994 Dorothy Hodgkin, chemist, structure of insulin, Nobel 1964, dies at 84
1998 Jerome Robbins, master choreographer of modern ballet, dies in NY at age 79

July 29: Quotes on this day—

Went with Angelica to the Rondanini Palace. You will remember that, in one of my first letters from Rome, I spoke of a Medusa which made a great impression on me. Now the mere knowledge that such a work could be created and still exists in the world makes me feel twice the person I was. I would say something about it if everything one could say about such a work were not a waste of breath. Works of art exist to be seen, not talked about, except, perhaps, in their presence. I am thoroughly ashamed of all the babbling about art in which I used to join. If I can get hold of a good cast of this Medusa, I shall bring it back with me, but a new one will have to be made. There are some for sale, but, far from conveying any idea of it, they ruin it. The mouth, in particular, is inexpressibly noble.

— Johann Wolfgang von Goethe, Italian Journey, July 29, 1787

Suicidal is this distrust of reason; this fear to think; this doctrine that 'tis pious to believe on others' words, impious to trust entirely to yourself. To think is to receive... To reflect is to receive truth immediately from God without any medium. That is living faith.

— Ralph Waldo Emerson, Journal, July 29, 1831

If the Allwise would give me light, I should write for the Cambridge men a theory of the Scholar's office. It is not all books which it behooves him to know, least of all to be a bookworshipper, but he must be able to read in all books that which alone gives value to books— in all to read one, the one incorruptible text of truth. That alone of their style is intelligible, acceptable to him.

Books are for the scholar's idle times. When he can read God directly, the hour is too precious to be wasted on other men's transcripts of their readings. The poet, the prophet is caught up into the mount of vision, & thereafter is constrained to declare what he has seen. As the hour of vision is short & rare among heavy days & months so is its record perchance the least part of his volume. But the reverence which attaches to the record spreads itself soon over all his books especially for the bulk of mankind. Hence the book learned class who value books as such not as related to Nature & the human constitution but as making themselves a Third Estate. But the discerning man reads in his Shakspear or Plato only that least part, only the authentic utterances of the oracle, and all the rest he rejects were it never so many times Shakspear's & Plato's.

Books may be read too much. Genius is the enemy of genius by overinfluence. Pope and Johnson and Addison write as if they had never seen the face of the country but had only read of trees & rivers in books. The striped fly that eats our squash & melon vines, the rosebug, the cornworm, the red old-leaf of the vines that entices the eye to new search for the lurking strawberry, the thicket and the little bowers of the pea vine, the signs of ripeness and all the hints of the garden— these grave city writers never knew. The towers of white blossoms which the chestnut tree uplifts in the landscape in July; the angle of strength (almost a right angle) at which the oak puts out its iron arms; the botany of the meadows & watersides— what had Queen Ann's wits to do with these creatures? Did they ever prick their fingers with the thorn of a gooseberry? Did they ever hear the squeak of a bat, or see his flitting?

— Ralph Waldo Emerson, Journals, July 29, 1837

A northeast wind with rain, but the sea is the wilder for it. I heard the surf roar on the Gurnet in the night... It was the wave reaching the shore before the wind. The ocean was heaped up somewhere to the eastward, and this roar was occasioned by its effort to preserve its equilibrium. The rut of the sea. In the afternoon I sailed to Plymouth, three miles, notwithstanding the drizzling rain, or "drisk" as Uncle Ned called it. We passed round the head of Plymouth beach, which is three miles long. I did not know till afterward that I had landed where the Pilgrims did and passed over the Rock on Hedge's Wharf. Returning, we had more wind and tacking to do. Saw many seals together on a flat. Singular that these strange animals should be so abundant here and yet the man who lives a few miles inland never hear of them... We caught a lobster, as you might catch a mud turtle in the country, in the shallow water, pushing him ashore with the paddle, taking hold of his tail to avoid being bitten... This sailing on salt water was something new to me. The boat is such a living creature, even this clumsy one sailing within five points of the wind. The sailboat is an admirable invention, by which you compel the wind to transport you even against itself. It is easier to guide than a horse; the slightest pressure on the tiller suffices. I think the inventor must have been greatly surprised, as well as delighted, at the success of his experiment. It is so contrary to expectation, as if the elements were disposed to favor you. This deep, unfordable sea! but this wind ever blowing over it to transport you! At 10 p.m. it was perfectly fair and bright starlight.

— Henry David Thoreau, Journal, Tuesday, July 29, 1851

At Vernonia Meadows I notice the beds of horsemint now in flower— bluish whorls of flowers, now in their prime. Now is the time to gather thoroughwort. Cardinals are in their prime. The hibiscus is barely budded, but already the meadow-hay mowers have sheared close to it... Those huckleberries near the hibiscus are remarkably glossy, fresh, and plump in the lowland, but not so sweet as some. Crossed the river there, carrying over my clothes...

Butterflies of various colors are now more abundant than I have seen them before, especially the small reddish or coppery ones. I counted ten yesterday on a single Sericocarpus conyzoides. They were in singular harmony with the plant, as if they made a part of it. The insect that comes after the honey or pollen of a plant is necessary to it and in one sense makes a part of it. Being constantly in motion and, as they moved, opening and closing their wings to preserve their balance, they presented a very lifesome scene. Today I see them on the early goldenrod (Solidago stricta).

— Henry David Thoreau, Journal, July 29, 1853

Walden & Hubbard's Close, P.M.— Jersey tea. Young oak shoots have grown from one and a half to three or four feet, but now in some cases appear to be checked and a large bud to have formed... The berries are very scarce, light wine red, semitransparent, showing the seed— a few (six to ten) large shining grains and rather acid.

— Henry David Thoreau, Journal, July 29, 1854

On the portrait. On landscape, as an accompaniment to a subject... Rubens, who did landscape very well, did not trouble to get it into relation with his figures so as to render them more striking, I mean striking for the mind, because for the eye, his backgrounds are usually calculated to over-intensify the color of the figures, this being done principally through contrast. The landscapes of Titian, of Rembrandt, and of Poussin are, as a rule, in harmony with the figures. With Rembrandt even— and he carries this to perfection— the background and the figures are absolutely one. Interest is everywhere: you do not divide off anything, any more than you do in a beautiful scene that nature offers you and in which everything contributes to your delight. With Watteau, the trees are a matter of formula: they are always the same trees, and recall theatrical scenery more than the trees of the forest. A picture by Watteau placed beside a Ruysdael or an Ostade loses greatly. The artificiality is all too plain. You quickly tire of the convention which they present, whereas you cannot tear yourself away from the Flemish...

What gives to portraits their principal charm is simplicity. I do not count as portraits those pictures in which the artist seeks to idealize the features of a celebrated man whom he has not seen but whom he paints from traditional likenesses; invention has the right to enter into such representations. True portraits are those that one does from one's contemporaries: we like to see them on the canvas as we meet them around us, even in the case of illustrious persons. Indeed it is as regards the latter class of men that fullness of truth in a portrait constitutes its greatest attraction. When such persons are far from our sight, our mind takes pleasure in aggrandizing their image, as it does with the qualities which distinguish them; when that image is fixed and before our eyes, we find infinite charm in comparing the reality with the thing which we imagined. We like to find the man alongside the hero, or in place of him...

Plenty of people imagine that they have done a great thing for pictures when they have had them restored; they think that it is the same with painting as it is with a house that is repaired, and which is always a house, or like everything else that we use, that time destroys, but which our industry causes to last and serve for a longer time when we replaster and repair it in a thousand ways. Even if one go so far as to admit that a woman who knows how to make up can conceal a few wrinkles and so produce the illusion of seeming younger than she is, the case of pictures is a different one: each so-called restoration is an injury a thousand times more regrettable than those of time; it is not a restored picture that you are give, but a different picture, that of the miserable dauber who has substituted himself for the author of the real picture, which has disappeared under his retouching.

— Eugene Delacroix, Journal, July 29, 1854

I was thinking the other day that I would much rather be a bird than a girl, because I like the way they love much better than the way people do. They sing to one another all day long and never quarrel. What an example! But someone who is sick should go to bed early and get a good night's sleep— I go to bed to reflect, think, dream, and get up in the morning to do the same thing during the day. I like the night better, because during the day one has to talk and laugh, even play sometimes— play at the age of 16!

— Anaïs Nin (1903-1977) Diary, July 29, 1919
Dear Stannie: The child was born on Thursday last the 27th July at nine o'clock in the evening... The child appears to have inherited his grandfather's and father's voices. He has dark blue eyes. He has a great taste for music because while I was nursing him yesterday he eyed me with great fixity as I whistled several operatic airs for him. Nora gives him her own milk... I hope that you are all delighted now that you have all been made uncles and aunts of. Jim
James Joyce, Letter to Stanislaus Joyce, July 29, 1905
Via S. Nicolò 30, IIo, Trieste, Austria
Dear Sir: I believe that Joyce is in immediate need of help... I think that Mr. Joyce has a most beautiful gift. there is a poem on the last page of his 'Chamber Music' which will I believe live. It is a technical and emotional masterpiece. I think that his book of short stories 'Dubliners' has the promise of a great novelist and a great nevelist of a new kind. There is not enough foreground, it is all atmosphere perhaps, but I look upon that as a sign of an original study of life. I have read in a paper called 'The Egoist' certain chapters of a new novel, a disguised autobiography, which increases my conviction that he is the most remarkable new talent in Ireland today. Yours sincerely, W B Yeats
William Butler Yeats, Letter to the Secretary of the Royal Literary Fund,
July 29, 1915, Coole Park
Dear Mr. Parker: I shall be glad if you can send a note to the Reverend Stephen Browne, S. J., Clongowes Wood College, Sallins, Kildare, Ireland thanking him in my name for the inclusion of me in his work Ireland in Fiction and, as he invites corrections for the second edition now in the press, informing him that I was born in 1882 (2 February), that my father's family came from Cork not from the west of Ireland. My father is from Cork city, his father from Fermoy, county Cork. The family comes, of course, from the west of Ireland (Joyce's country) but mine is a southern offshoot of the tribe. My wife is from Galway city. My other works of fiction not mentioned in his book are A Portrait of the Artist as a Young Man and Ulysses.
— James Joyce, Letter to James B. Pinker, July 29, 1918, Universitätstrasse 38, Zurich
Dear Miss Weaver: After nine weeks' illness I am at last able to read and write again. I am sorry that the other episodes of Ulysses have been delayed. A few days ago I sent the sixth episode 'Hades' to Mr. Pound with a copy for you and very soon I shall send the seventh 'Eolus'. I received also The Voyage Out by Mrs. Woolf and shall now begin to read it. I beg you to convey my thanks to her for the interest she has taken in the printing of my book. If you are in correspondence with my American publisher I shall feel obliged if you will please tell him that I agree to his publishing Chamber Music, in spite of the Boston edition, with a note to say that I authorise the edition. No verses written by me since its first publication are to be added to it...
— James Joyce, Letter to Harriet Shaw Weaver, July 29, 1918, Universitätstrasse 38, Zurich
Dear Sir: My uncle-in-law Mr Michael Healy has asked me to send you a prospectus concerning the facsimile MS edition of my booklet Pomes Penyeach (so brought out in Paris in 1932) which I had much pleasure in offering to your library and you the graciousness to accept. Two other European libraries possess copies, the Bibliothèque Nationale here and the British Museum in London. But I wished to offer a copy to your library not only because the designer of the lettrines is a granddaughter of your city and the writer of the verses bears one of its tribal names but also as a small acknowledgement of a great debt of gratitude to Mr Healy himself for his kindness and courtesy during so many years. Sincerely yours, James Joyce
James Joyce, Letter to John Howley, [Librarian of University College, Galway]
July 29, 1935, 7 rue Edmond Valentin, Paris 7e

Born on July 29: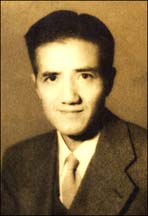 Tsien Chung Chou
(1902-2000)
born July 29, 1902, Hupei, China
(Lunar Calendar: June 25, 1902)
Professor in European History;
Diplomat to United Nations;
Memories of Dad; Obituary;
Eulogy; On the Number 100

Alexis de Tocqueville
(1805-1859)
born July 29, 1805
Paris, France
Author, Democracy in America
Biography; Chronology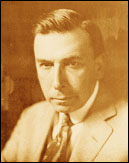 Booth Tarkington (1869-1946)
born July 29, 1869
Indianapolis, Indiana
Novelist, Playwright,
Pulitzer 1919, 1922
Biography; Stories;
Magnificent Ambersons film


Sigmund Romberg
(1887-1951)
born July 29, 1887
Nagykanizsa, Hungary
American Operetta Composer
Biography; Photos;
Autograph; Broadway music;
Deep In My Heart
(film biography of Romberg)

William Powell (1892-1984)
born July 29, 1892
Pittsburgh. Pennsylvania
Film Actor, Biography
Portraits; Filmography

Isidor Isaac Rabi (1898-1988)
born July 29, 1898
Raymanov, Austria
Physicist, Nobel 1944
Biography; Photo with Einstein
Boston Globe Obituary

Eyvind Johnson
(1900-1976)
born July 29, 1900
Svartbjörsbyn, Sweden
Writer, Nobel 1974
Biography; Books & Writers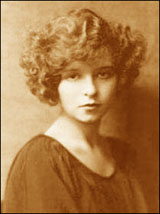 Clara Bow (1905-1965)
born July 29, 1905
Brooklyn, New York
Film Actress
Biography; Photos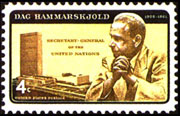 Dag Hammarskjöld (1905-1961)
born July 29, 1905
Jönköping, Sweden
Statesman, Nobel 1961;
UN Secretariat General (1953-61)
Biography; Markings;
NY Times Obituary (9-19-61)

Don Carter
born July 29, 1926
St. Louis, Missouri
Champion Bowler
Biography; Bowling;
Bowling Legends; Stats

Paul Taylor
born July 29, 1930
Pittsburgh, Pennsylvania
Modern Dancer, Choreographer
Paul Taylor Dance Company;
Biography; Dance Review;
Manchester Guardian (11-2-2000);
Autobiography Review

Peter Jennings
born July 29, 1938
Toronto, Canada
ABC News Anchor
Short Bio; ABC News Biography; Jennings' Book: The Century