My best student Deborah Oakley from Worcester Polytechnic Institute who's now an Architecture Professor at University of Maryland came for a visit. On Wednesday, July 27, 2005, we went to SF Twin Peaks, Mission Dolores, St. Mary Church, Unitarian Universalist Center, and the Ferry Building where we found my Poetry Plaque "Valentine Mints Poems". Here are some photos (click to enlarge):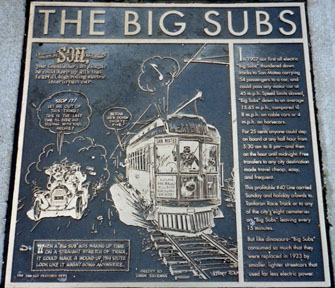 The Big Subs: Bronze plaque located on an island to the right of the Ferry Building:

In 1907, our first all electric "Big Subs" thundered down tracks to San Mateo carrying 54 passengers to a car, and could pass any motor car at 45 m.p.h. Speed limits slowed "Big Subs" down to an average 15.65 m.p.h., compared to 8 m.p.h. on cable cars or 4 m.p.h. on horsecars. For 25 cents anyone could step on board at any half hour from 5:30 am to 8 pm— and then on the hour until midnight. Free transfers to any city destination made travel cheap, easy, and frequent. This profitable #40 Line carried Sunday and holiday crowds to Tanforan Race Track or to any of the city's eight cemeteries on "Big Subs" leaving every 15 minutes.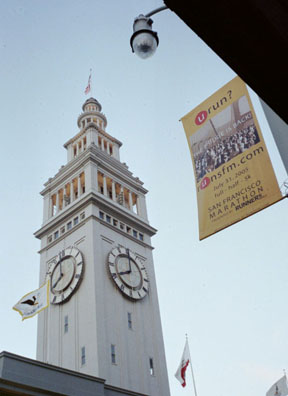 Ferry Building at 8 PM:
Standing by my "Valentine Mints" bronze plaque, I got a majestic view of the Ferry Bldg. It was 8 o'clock when this photo was snapped for my "Numbers" collection. When my college roommate Huai-Han Kung and his daughter visited me a few years ago, we went here searching for my plaque near the waterfront without any success. It is located on an island to the left of the Ferry Bldg.
Ferry Terminal Trolley Stop: Deborah found my "Poetry Plaque" on an island near this sign.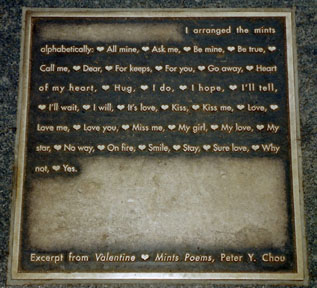 Valentine ♥ Mints Poems Plaque: Around 1999, I received a letter from the San Francisco Arts Waterfront Project. They found my "Valentine Mints Poem from A Tree in the Sky: California Poets in the Schools 1995 Statewide Poetry Anthology, and paid me $100 honorarium to cast it in bronze. I didn't get to see it in six years until now. I hope others will use these hearts to write their own love poems, the way my students enyoyed this writing exercise: I arrange the mints alphabetically: ♥ All mine, ♥ Ask me, ♥ Be mine, ♥ Be true, ♥ Call me, ♥ Dear, ♥ For keeps, ♥ For you, ♥ Go away, ♥ Heart of my heart, ♥ Hug, ♥ I do, ♥ I hope, ♥ I'll tell, ♥ I'll wait, ♥ I will, ♥ It's love, ♥ Kiss, ♥ Kiss me, ♥ Love, ♥ Love me, ♥ Love you, ♥ Miss me, ♥ My girl, ♥ My love, ♥ My star, ♥ No way, ♥ On fire, ♥ Smile, ♥ Stay, ♥ Sure love, ♥ Why not, ♥ Yes.