Archery target
Balls
Bell's rim
Bird's nest
Bowl & cup's rim Buttons
Camera lens
Can lids
Carousel
Clear Sky O (meteorology)
Clocks
Coins
Cycle of season
Cycle: day, week, year
Degree º
Egg yolk
Eternity symbol (heaven)
Eye
Female l (biology)
Full moon: lunar cycle
Giotto's "O"
Globe (Earth)
Halo of saints
Kolo dance
Letter O & Number 0
Mandalas
Marbles & pearls
Olympic rings
Oxygen symbol O
Period punctuation (.)
Plates
Potter's wheel
Radar & satellite dish
Rose window
Round table (King Arthur)
Soap bubbles
Steering wheel
Stonehenge circle
Sun
Tree rings
Uroborus
Water ripples
Wedding ring
Wheels
Yin-Yang
Kandinsky's Circles within a Circle
Vasarely's Oerveng
Logo: AT&T
Logo: CBS
Logo: Lucent
Arrowhead
Billiard ball rack
Bowling balls setup
Carrot
Coat hanger
Cone
Del t (vector in math) Evergreen tree symbol s
Fire symbol s
Fulcrum
Great Seal of USA
Greek delta s
Increment s (calculus)
Judaic Star of David s
Letters A, V (counter space)
Letters W, Y (counter space) Mountain's peak
Pediment of Greek temple Pizza slice
Prism's side
Pyramid faces
Sail of Sailboat
Shower symbol t
Sri Yantra
Steeple of church
Summer Triangle
(Altair, Deneb, Vega)
Tail of airplane
Teeth of saw
Triangle (music)
Trine (120º distance)
Trinity
Tripod
Traffic signs (danger)
Logo: ALCOA
Logo: American Can Co.
Logo: Chrysler Corp.
Logo: Rohm & Haas
Logo: Sprint
Logo: Weyerhauser.
Logo: W. J. Barney Corp.

Great Seal of USA
Baseball bases
(1st, 2nd 3rd)
Bathroom wall tiles
Box
Building symbol (masonry)
Chair's seat
Checker & Chess boards
Chinese ideogram mouth
Computer chip
Courtyard & town square
Cube block faces
Door & window panes
Em quad n (typography)
Floppy diskettes
Graduation cap
Magic Squares
Male symbol n (biology)
Napkins
Page in book
Pixels (computer)
Postage stamps
Pyramid base
Quadrature (90º distance)
Quilt patterns
Quarternity symbol (earth)
Sandwich Bread
Shirt pockets
Sidewalk squares
Square dance
Tick-tack-toe
Touch-tone dials
Typewriter keys
Josef Albers'
Homage to the Square Malevich's
Red & Black Squares

Josef Albers, Glow
Archetypal man symbol
Celtic cross
Chinese ideogram 10: +
Compass directions Cropmarks
Cross of Lorraine Crosshair (rifle)
Crossroad
Crucifix
Earth symbol
Egyptian cross (ankh)
Greek cross
Latin cross
Latitude & Longitude Leaf veins
Letter X
Lug wrench (car wheels)
Maltese cross
Northern Cross (stars)
Papal cross
Plus sign + (math)
Red Cross +
Registration mark
St. Andrew's cross
Southern Cross (stars)
Swastika
Swiss flag +
Tombstone cross
Tree of Life symbol Wheel spokes
"X marks the spot"
Salvador Dali's
Christ Hypercubus
Paul Klee's
Secret Script Picture
O'Keeffe's Black Cross with Red Sky (1929)
Southern Cross
Constellation
Artichoke & pine cones
Cinnamon roll
Ear
Clock's spring
Daisy & Sunflower center
Dante's Mt. Purgatory
Double Helix of DNA
Fibonacci series
Fingerprint whorl
Helix of proteins
Hurricane & Tornado
Kundalini's serpent force
Leaf arrangement on tree
Maze
Minaret (Iraqi mosque)
Nautilus shell & Snail
Roll of toilet tissues
Roller coaster
Sceptre of pharoahs
Sceptre of popes
Serpent coil
Spinning threads
Spiral galaxy
Spiral staircase
Still point at the crown
of the head
Subatomic tracks
Water draining in sink
Whirlwind & Whirlpool
Yogurt cone
William Blake's
Jacob's Ladder
Kircher's
Phases of the Moon
Joan Miro's The Hare
Vincent Van Gogh's
Starry Night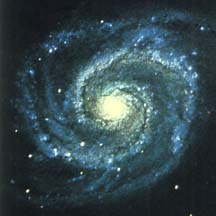 Ursa Major Spiral Galaxy